Initial Meeting and Process
INITIAL MEETING
The focus of the introductory meeting is to determine if we are compatible. I will discuss my process and in turn discuss your financial situation as well as your needs, goals and risk tolerance.
FOLLOW UP MEETING
During the second meeting we will review your individually tailored retirment/financial plan; look at your current assets, insurance, and estate plan; and discuss any changes need to be made to fit your unique situation.
ONGOING PORTFOLIO REVIEW
The final step of the process is a periodic review encompassing your investment objectives, investment portfolio's performance, and our progress in the pursuit of your financial goals.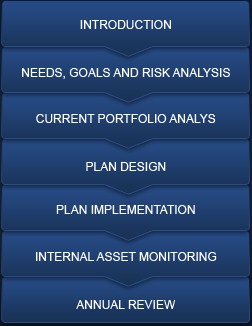 GENERATION TO GENERATION
Imagine working a life time to not only save enough money to retire financially independent but also to support your family, especially children. Then you die. What do the courts do with your estate?
The overall purpose of estate planning is to develop a plan that will enhance and maintain the financial security of you and your family. This includes financial planning, which may lead to increase your wealth, conservation of those assets, as well as passing them to the next generation. Estate planning should provide financial security during retirement years and facilitate the intended and orderly distribution of property at death. This can be done with proper usage of wills, trusts and insurance.
*LPL Financial Representatives offer access to Trust Services through The Private Trust Company N.A., an affiliate of LPL Financial.
LPL's Strategic and Tactical Asset Allocation Committee (STAAC) recommends investors maintain a neutral duration relative to benchmarks with the expectation that Treasury yields are likely headed lower (or at least not much higher) over the next few quarters.
read more